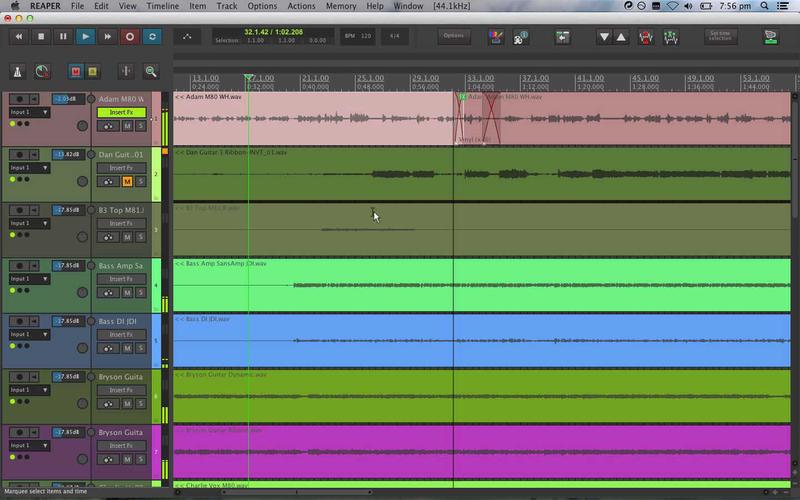 I've had a few of you asking what theme I use in Reaper so hopefully this post will clarify that a bit…
Firstly, I always love to change something to fit me personally if I can. One thing I find amazing about Reaper is that a very large amount of things can be customised.
I use a combination of two themes, along with my own slight changes. Both themes are very well done and I highly recommend giving them a try yourself.
The first theme in my frankenstein creation is Flatland. Flatland is quite a recent theme, and had only just released when I fell in love with it and immediately switched. It is very minimalist and does not try and resemble real-world objects, that I find so many themes try to attempt and fail. The theme reminds me a little of the approach to DAW appearances that Bitwig and Ableton take. It's great for both daylight and nighttime use and everything always looks crisp and to the point.
I then complimented areas of the theme that didn't look as amazing as they could be (such as the transport buttons, which were kept from the official Reaper 5 theme) with a theme called JanneV_103. The Janne theme has always been a favourite of mine since I started my adventure into Reaper so it was no surprise that I chose to call back to this theme when looking to make things that bit more personal to my tastes.
I then made my own modifications to the theme to make everything blend together that little bit better. Many of my subtle changes were done by changing the opacity of elements within the theme using an image editor. This allows the colours of the tracks in Reaper to show through the theme's image elements. I did this as it not only looks better (in my opinion) but it also allows me to better identify a track easily, as I like to colour code the tracks in my sessions.
Noteworthy Links: My Reaper Theme (note this is very experimental and has only been edited to my needs)